Yesterday I enjoyed a fabulous and vibrant atmosphere at Galgael's May Fair in Glasgow-Ibrox. I had a stall with felted goodies and many visitors enjoyed the colourful display and took one or the other item home. There were many great craft people, delicious food, yummy cakes warming soup and so much more to experience. Lovely to meet old friends and make new ones on a happy day like this!
This week I have planned two needle felt workshops, one at GalGael and another one in Bishopbriggs.
Needle felt workshop on Thursday, 12th May 4.00-5.30pm
It's the time of Spring and we will use felt making, using colourful fluffy wool fibers and a specific felting needle to create flowers, a butterfly, a fairy or any other Spring related item.
The aim of this workshop is:
● to learn needle felting, or improve your needle felt skills.
● to experiment with colours and design
● to tak
e home a unique piece of handmade felt.
At the end of the workshop you will have your own felted item and have learned or improved a new skill. No previous experience needed.
Costs: £5 for one felt item
Please book asap, as places are limited! Contact me or the


GalGael office: 0141/ 427 30 70.
Venue: GalGael, 15 Fairley Street, Glasgow G51 2SN
Little fairy
Connect to nature and create with wool fibres- half day workshop on Saturday, 14th May
In this afternoon workshop you can create your individual needle felted ornament related to the natural realm. To connect with the natural realm we'll start with a guided inner journey.
You will use colourful sheep's wool fibres and a special felt needle to create a nature related ornament e.g. a fairy, a mushroom, a gnome, an elf, a mermaid etc.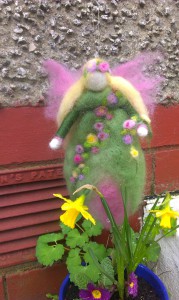 Spring flower fairy
It's fun to get creative in this way and you can easily get hooked!
Craft experience is very welcome and needle felt experience too, but not necessary. Weather permitted we might felt in the garden.
Please, feel free to invite friends.
A complementary cup of tea will be served.
Booking in advance is essential! Places are limited to 4 participants.
Cost: £18/£15 concession.
Please pay at the start of the workshop. .
Venue: 63 Crowhill Road, G64 1QY,
Glasgow-

Bishopbriggs
Little gnome